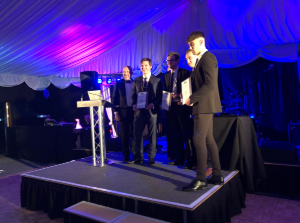 On Friday 10th May, The Mansfield and Ashfield 2020 business awards took place, recognising achievements business excellence across North Nottinghamshire.
R.E.A.L. Education had been selected as finalists in two awards: Ross Walters, a talented young apprentice from R.E.A.L.'s Creative Digital provision had been shortlisted in the 'Young Apprentice of the Year' category, and R.E.A.L.'s Creative Digital Student Enterprise Company was nominated in the 'New Business of the Year' category.
Unfortunately, Ross and Creative Digital were runners up on the night – however, just being shortlisted for these prestigious awards is a fantastic achievement.
Well done Creative Digital!
Click here for the 2019 award winners.