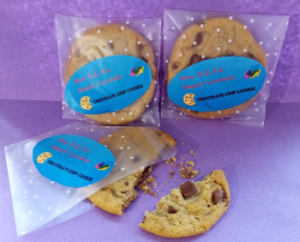 As part of their community awareness group, learners and staff at City Hub, have started a 'cookietastic' enterprise project!
'One R.E.A.L. Smart Cookie' was created by learners wanting to raise some funds from their ideas, and involves them using their maths, English and ICT skills. The learners have been creating and branding the cookies before selling them at City Hub.
Any profits made from the enterprise will be split between the R.E.A.L. Foundation Trust and other learner enterprises later this year.
Darren Coe, Tutor at R.E.A.L. Education said: "The learners have been involved in all aspects of setting up the project from initial concept to branding, logo and packet design, marketing, and selling. We are currently working on a Radio and TV advert for the product. Watch this space!"
Cookies can be purchased at City Hub on Wednesday afternoons and cost 50p each.