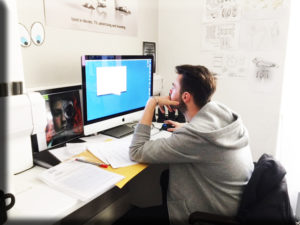 When it comes to next steps after GCSEs, R.E.A.L. Education has some unique offerings.
One exciting option for post-16 learners is a Level 3 (A-level equivalent), 2-year study programme that's founded on work-based experience in the creative digital arts industry, ultimately leading to a Level 3 Diploma in Creative Media (graphic design).
R.E.A.L. has state of the art facilities, and tutors that develop learner's skills based only on what is currently relevant to the commercial sector – from illustration, design, film and advertising through to engineered 3D visuals aimed at the gaming and TV industries.  
Learners deal directly with clients such as Sony, NHS, Vahterus and Dalmatian Systems, and gain valuable, relevant skills whilst building commercial portfolios – highly prized in today's working creative industry.
To gain a place on this unique course, potential learners need to show a creative mind and the eagerness to learn the skills necessary to be successful in today's booming creative digital sector. GCSE Maths and English are preferred, but not essential. Drive is everything.
The strong links R.E.A.L. has with industry partners, and the high skill level obtained by our learners, often means that positions are offered to them on completion of the course. Many learners also move on to R.E.A.L.'s Level 4 course, becoming intern apprentices – paid as members of commercial staff for two days per week, and giving them hands on experience as well as a further qualification.
Charles Stanford – Senior Marketing Director – Sony Music U.S. said: "R.E.A.L. Digital Arts deliver a course that is absolutely 'on-the-button' for any client wanting commercial digital content."
Information regarding open evenings will be displayed on www.realdigitalarts.com over the coming months and appointments to visit the facilities are always welcome. All interest in applying for any course at R.E.A.L. Digital Arts should be directed to Neil Kellow, Lead Teacher of Digital Arts: neil.kellow@real-education.org, (01623) 423583 or 07876 834626.