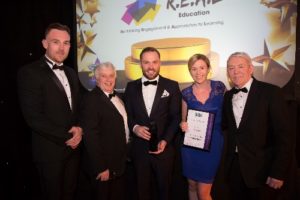 R.E.A.L. Education have been awarded the title of Business of the Year at the 2018 Mansfield & Ashfield 2020 Business Awards!
The 2020 awards acknowledge and reward the achievement of local businesses for showing entrepreneurial and enterprising fortitude whilst recognising their contribution to the economic development of the Nottinghamshire area. Everyone at R.E.A.L. is delighted to have their hard work and efforts recognised and rewarded with the prestigious Business of the Year title.
Now in it's 12th year, the 2020 awards took place on Friday 20th April at the John Fretwell Centre in Mansfield. The evening welcomed business leaders throughout Mansfield & Ashfield to celebrate success, economic drive and showcase excellence.
R.E.A.L. Education won the Business of the Year award because the judges felt that, whilst this was a very tough category to judge and all finalists were in a strong position to win, R.E.A.L. Education was a worthy winner.  The judges were impressed by R.E.A.L.:
Showing that the spirit of enterprise and social responsibility can be fused together to speedily create innovative and positive solutions in a climate of change and uncertainty in their sector (education);
Being held in high esteem regionally and nationally for bridging the gap between the education and public sector;
Developing a business model that is now recognised nationally, with numerous local authorities making a visit to the area to observe the impact of R.E.A.L.'s work in this sector;
Showing total commitment and determination to build a successful business.
Richard Smith, Director at R.E.A.L. Education accepted the award on the night and said: "It's a fantastic achievement for everyone involved with R.E.A.L. and a great way to mark our 10 year anniversary."
Russell Jones, Chairman of Mansfield & Ashfield 2020 commented: "It's great to award R.E.A.L. Education the title of 'Business of the Year'.  They deserve our congratulations on what they've achieved. It's a real recognition of all the hard work put in by all members of staff and the leadership team.   They have shone like a star in the educational sector locally and nationally and achieved great success!"
Richard Smith from R.E.A.L. Education also presented the Entrepreneurial Spirit Award, and R.E.A.L. would again like to congratulate the winners, Personnel Solutions (UK) Limited.