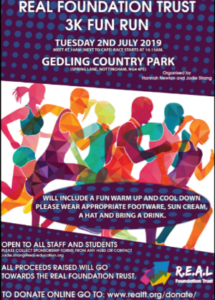 It's time to dig out your running shoes in aid of the R.E.A.L. Foundation Trust!
Open to all staff and learners, the R.E.A.L. Foundation Trust 3km Fun Run will take place on Tuesday 2nd July at Gedling Country Park, Spring Lane, Nottingham NG4 4PE. Runners should meet next to the cafe at 10am for a warm up before the event starts at 10.15am.
Jodie Strang, a Teaching Assistant at R.E.A.L. Education has organised the event with one of her learners. Jodie said: "Please do come along on the day to run or support!
"This is a huge challenge – both mentally and physically. If you can't run on the day, but are still keen to support the event and the R.E.A.L. Foundation Trust, please do make a donation by visiting www.realft.org/donate."
For more information about the event and for sponsorship forms, please email jodie.strang@real-education.org. Sponsorship forms can also be downloaded by clicking here.