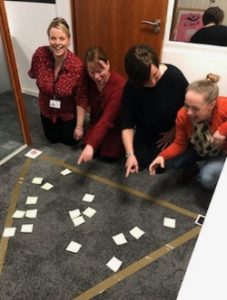 Over twenty members of staff from across R.E.A.L. Education are taking part in a new leadership course.
The 'Step Up Programme' is a bespoke training course for R.E.A.L employees who would like to progress into leadership and management positions.
The programme consists of three modules and a personal development session using the theories of social pedagogy (an approach that combines education and care – with the teacher/carer working alongside a child rather than dictating to them).
R.E.A.L Education was recently awarded the gold Caring2Learn standard, an accolade given by Lincolnshire County Council, which allows the organisation to train with the Treehouse Associates (a network of committed social pedagogy and education professionals acting to promote positive change for vulnerable children, families, and communities) to embed the learning from a European body of holistic education theories and practice (which is collectively known as social pedagogy).
22 employees have started the course which will conclude at the end of the academic year. R.E.A.L. Education's Operations Manager, Kay Carter and Chairman Brian Smith, have been leading this initiative and there are plans to expand this offer and provide accreditation for future participants.
Kay Carter said: "This has been an exciting project, Brian and I have lots of plans to offer this to more colleagues. As it has been well received, we also hope there will be lots of recommendations from those who have already taken part".
This training is currently being applied within the Step Up Programme, but look out for more Continuing Professional Development (CPD) opportunities for all staff in the future!