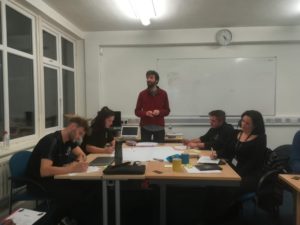 R.E.A.L. Workforce Solutions are delighted to announce that the Award in Education and Training Level 3 (AET3) is live!
AET3 is a knowledge-based introduction to teaching and is perfect for learners who are currently employed in an educational setting or for those who are seeking employment in this sector.
The R.E.A.L. Workforce Solutions tutors will help learners through learning the roles and responsibilities of being a teacher/trainer in relation to legislation, equality, diversity, being inclusive and meeting the needs of their learners. The tutors will also ensure that there are plenty of opportunities for learners to hone their delivery skills before creating micro sessions to deliver to their classmates.
Patrick McConnell, Centre Coordinator for R.E.A.L. Workforce Solutions said: "We are delighted to be able to offer this programme of learning. We have been working with education employers since the inception of R.E.A.L. Workforce Solutions and this course has been the most requested.
"Our programme and our trainers are very adaptable – the programme can be tailored to meet the needs of any individual or company."
Antonia Germany, R.E.A.L. Mechanics Tutor is currently taking part in the AET3 course at R.E.A.L. She said: "'It has only been our second week and I am already noticing subtle differences in my approach to teaching. It has been a great experience so far and I don't feel under pressure because of the relaxed attitude the tutor has!"
The current AET3 programme sold out in less than 24 hours. Advanced booking for the next programme will go live in the new year – please look out for updates in our newsletter and also on R.E.A.L. social media channels.
For more information, or to enquire about block-booking, please email R.E.A.L. Workforce Solutions on hello@realws.org, or call head office on 01158 220400.