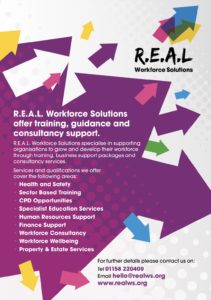 As part of our 10th Anniversary celebrations we are proud to announce the formation of a new training company at R.E.A.L. Education.
R.E.A.L. Workforce Solutions is a training, guidance and consultancy support company who specialise in supporting organisations to grow and develop their workforce through training, business support packages and consultancy services.
For more information or to book a consultation meeting please call us on:
01158 220400 or email us on: hello@realws.org.