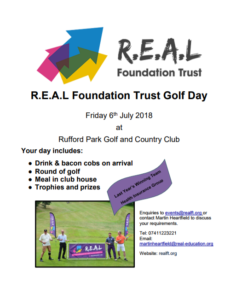 On Friday 6th July you are welcome to join us at Rufford Park Golf and Country Club for the R.E.A.L. Foundation Trust Golf Day. The day includes: A drink and bacon cobs on arrival, a round of golf, a meal in club house and trophies and prizes.
This event is being held to raise money for The R.E.A.L. Foundation Trust. Days like this are important, as the funds raised ultimately benefit children and young people between the ages of 5 and 19 who are "lost to learning" and "hard to place." The R.E.A.L. Foundation Trust financially supports innovative and creative educational solutions for the specific needs of these children.
To book your place on either of these events, or for more information, email events@realft.org, or contact Martin Heartfield directly on 07411 223 221 or martin.heartfield@real-education.org.