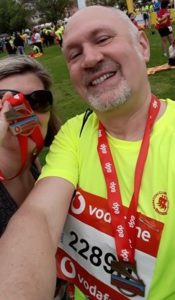 Congratulations to R.E.A.L. Education teacher Andrew Brader and Learning Manager Louise Trevett for raising a brilliant £603.36 for the R.E.A.L Foundation Trust by running the mini marathon in Lisbon on March 17th.
Andrew said: "We enjoyed the run. We had to contend with temperatures of 22 degrees, which was somewhat different to the training days in the UK!
"Lisbon is an amazing capital city and the run itself is a special one – it also felt like most of Lisbon turned out to either run or cheer on and support.
"The course begins by running across this huge suspension bridge which stretches for a mile in length across the river and you can see the whole city in the distance and see the 500 metre drop below your shoes.
"We are delighted with the money we've raised – a massive thank you to all family, friends and colleagues who supported us in raising money for this worthwhile charity."
The R.E.A.L. Foundation Trust supports innovative and creative educational solutions for children and young people, between the ages of 5 and 19, who are "lost to learning" and "hard to place".