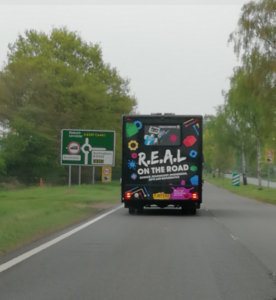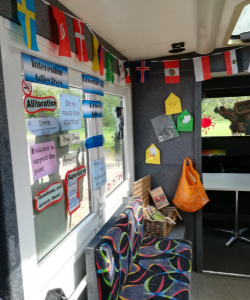 R.E.A.L. Education's mobile classroom has begun its educational journey with its first outing to Caythorpe in Lincolnshire.
The mobile classroom visited several learners from local schools who all had a brilliant day, using the exciting STEAM (Science, Technology, Engineering, Arts and Mechanics) resources on the bus and as well as exploring and learning about the local Caythorpe countryside.
This was the first of many trips for R.E.A.L.'s mobile educational resource, with bookings now being planned across the county.
Donated by Nottinghamshire County Council, the bus has spent the last six months being transformed into a mobile classroom thanks to a donation of £10,000 from the Mansfield Building Society. The next phase of the transformation will see the interior of the bus being updated thanks to the apprentices from Parker Knoll.
Last month, R.E.A.L. Education's Chairman, Brian Smith and R.E.A.L. Education's Project Development Manager, Chris O'Brien attended the Mansfield Building Society AGM and gave a presentation on the stages of the transformation R.E.A.L. were able to undertake as a direct result of their generous donation.
Chris said: "Our presentation was well received by the audience. We were also able to outline the future direction of the bus where we will continue to work in partnership with Mansfield Building Society by offering workshops on finance and budgeting for life with local schools, alongside our wide range of exciting S.T.E.A.M based sessions."
Look out for the bus coming to a venue near you!