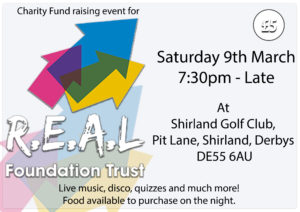 On Saturday 9th March, a charity night in aid of the R.E.A.L. Foundation Trust was held at Shirland Golf Club.
The night, which had live music, a disco, raffle, and a quiz raised an amazing £1,067 for the R.E.A.L. Foundation Trust.
The R.E.A.L. Foundation Trust support innovative and creative educational solutions for children and young people, between the ages of 5 and 19, who are "lost to learning" and "hard to place". The Trust strives to create a continuum of excellence in education that spreads beyond the school or academy gate and allows those who may struggle in a mainstream setting to reach their potential.
Nikki Purcell, R.E.A.L. Independent School Head Teacher organised the event. Nikki said: "What a fantastic night! Thanks to everyone who supported it by attending or buying raffle tickets – the amount of money raised is amazing!
"I would like to thank George Wishart, staff and members at Shirland Golf club for their generosity on the night. I would also like to thank "The Three Busketeers", who played two brilliant sets on the night to entertain everyone."