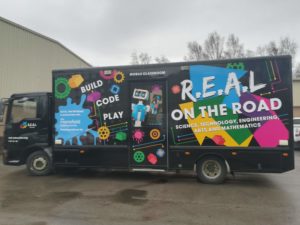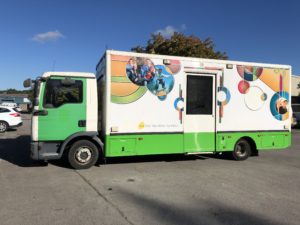 The R.E.A.L. Education Bus has come a long way since renovations first began!
The exterior is now completely finished and the bus is a real eye-catcher as it drives around. All that remains now is to tidy up the inside and fill it with all the latest learning resources – everything should be ready to roll out by the first week of February.
The team are closely guarding the new resources and the STEAM (Science, Technology, Engineering, Arts and Mathematics) equipment that will be in place.
Chris O'Brien, R.E.A.L. Education's Project Development Manager has been coordinating the project to get the Education Bus on the road. Chris said: "We are really pleased with how the exterior of the bus has turned out – it looks fantastic! We're just putting the final touches to the interior of the bus and getting all the new education resources in place – come along and see for yourself after the launch, and we promise you will be amazed. It won't be long now until R.E.A.L. is on the road!"